Coimbatore is a perfect destination for all the travelers and tourists. Coimbatore has so many beautiful places to offer. Coimbatore is perfect combination of hill stations, waterfalls, trekking spots and wildlife sanctuaries. The pleasant climate of Coimbatore brings in innumerable visitors throughout the year. It is an ideal get away spot as it connects to Karnataka, Kerala and Tamil Nadu. Coimbatore promises to give you an unforgettable travel experience. Here is a list of places you can cover from Coimbatore – best with 2-3 days.
1. Ooty
Ooty is the most popular hill station in South India. It is also known as 'Queen of Hills'. The best time to visit is during cool summers March to June. Coimbatore Airport is the nearest to Ooty about 95kms. An ideal duration if you are visiting for the first time is 2-3 days, where you can enjoy the scenic beauty of the Hills. If you have already visited Ooty, then a day would be enough.
Things to visit/do in Ooty – Doddabeta(highest mountain in Nilgiri Hills), Botanical Garden, Pyakara Boating, Nilgiri Mountain Railway, Ooty Rose Garden, St Stephens Church
2. Conoor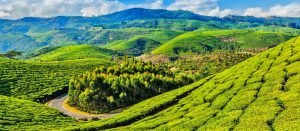 Conoor is one of the Nilgiri Hill station. Conoor is a small town but has its own majestic views. It is ideal for various trekking expeditions. Conoor is about 68km from Coimbatore Airport. The best time to visit Conoor is March to June & September to October while the peak season is April to June. Usually it takes one full day to visit Conoor. The tea plantations are spectacular in Coonoor and attract tourists as much as Ooty.
Things to visit/do in Coonoor – Dolphins Nose, Wellington, Tea Factory, Rallia Dam, Lamb's Rock, Catherine Falls
3. Kodaikanal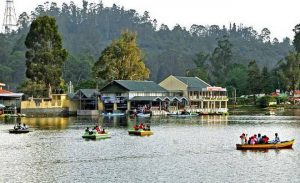 Kodaikanal is a beautiful place to spend your weekend.  It is approximately 170 km from Coimbatore. Nestled amidst the rolling slopes of the Palani Hills in Tamil Nadu, Kodaikanal stands at an altitude of 7200 feet above sea level . Going by car is the best option and feel the cool breeze hitting your face. Scenic falls and clear lakes constitute for travel goals.
Things to visit/do in Kodaikanal – Boating at Kodai Lake, Rent the cycles near the Lake and go cycling around the Lake, Pillar Rocks, Pine Forest, Berijam Lake, Trekking
4. Munnar
Munnar is famous for its exotic lush greenery and peaks, located in Western Ghats in Kerala. Unending tea plantations of Munnar are feast for the eyes. Owing to the largest tea plantations in South India, Munnar is perfect spot of all travelers. Munnar is 160km from Coimbatore, which will take approximately 5 hours. It is idyllic hill station for your summer vacancy.
Things to visit/do in Munnar – Kolukkumalai, waterfalls like Lakkam, Attukal, Nyayamakad, Chinnakkal, Kuthumkal, Cheeyapara, buy spices from Munnar – they are the best, Anamudi – Trekking spot, Neelkurini – blooms in 12 years (visit in 2018)
5. Madhumalai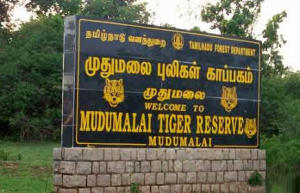 Experience the alluring fauna and flora at Madhumalai Wildlife Sanctuary. Home to 200= species of birds, animals, reptiles, it is popular for sightseeing and wildlife tours. Enjoy the scenic views as you walkby the streams, waterfalls and stroll in the valleys. Coimbatore airport is located 160 km away from Mudumalai national park
Things to visit/do in Madhumalai – Enjoy the day and night safari and try to spot a tiger, bison, elephants, deers
6. Kothagiri
Kothagiri experience pleasant climate throughout. The natural beauty and landscape of Kotagiri attracts tourists from all over the world. The refreshing breeze and picturesque town is mesmerizing. Kotagiri is approximately 100kms from Coimbatore airport.
Things to visit/do in Kotagiri – Visit Tea estates, Catherine Falls, Kodanad view point, Elk Waterfalls
7. Wayanad
Witness different shades of green in Wayanad. Wayanad is a hilly region in Western Ghats located in Kerala. Explore the Wayanad Mountains and forest areas and get ready to trek and stroll the flora of the region.
Things to visit/do in Wayanad – Banasura Sagar Dam, Kruva Island, Pookode Lake, Edakkal cave
8. Hogenakkal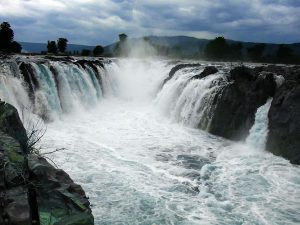 Hogenakkal located in Dharmapuri district and approximately 220 kms drive from Coimbatore. If you want to get lost admist the nature, this is a place to be. Hogenakkal Waterfalls referred to as 'Niagra of India' is enchanting in every way. The Kaveri River forks into multiple streams and falls through multiple steps, making it a beauty.
Things to visit/do in Hogenakkal – Hogenakkal Falls, Melagiri Hills, Boating
Coimbatore is surrounded by fascinating and hypnotizing locations which can be visited with your better half or besties or with family. These places are a perfect getaway for relaxing and refreshing trip.