The growth of Coimbatore city has accelerated in the past couple of years. The city is located in the Western Ghats resulting in pleasant climate throughout the year. With the evolution of Textile Mills, Coimbatore is called 'Manchester of Tamil Nadu'. The city has progressed in every sector in last few decades.
Looking at the beautiful attractions of the city one can get lost in the aura and authenticity of the place. The city in its calm nature has innumerable spots for the nature enthusiasts, history lovers, and fun freaks. The attraction in and near Coimbatore gather many tourists of India throughout the year. Here's a list of few temples in Coimbatore city that will leave you awestruck.
1. Mardhumalai Murugan Temple
Murugan Temple is located at the top of the hill at an elevation of 600 ft. This temple is dedicated to Lord Murugan, son of Lord Shiva and Goddess Paravati. It is situated 15km from the west of Coimbatore city. The temple witnesses followers and worshipers at a large scale. Beholden on the lap of Western Ghats, it is always a pleasant day to visit the temple. Relaxing a few hours in the divine atmosphere of Mardhumalai Murugan Temple helps in getting rid of the stress and insignificance of life.
2. Dhyanalinga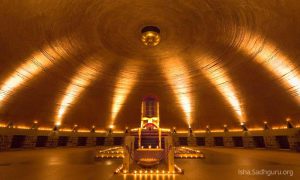 'Dhyana' means meditation and 'linga' means form. Dhyanalinga is a meditative space for enlightenment and spiritual liberation. I was founded by Sadhguru Jaggi Vasudev in the year 1999. It offers the spiritual seekers an opportunity to purify mind, body and soul. The architecture of Dhyanalinga is so amazing that the bricks are placed in such a way that it will never fall down. The design ensures a lifespan for at least 5000 years for the dome. Being lost in the yogic state is a beautiful experience at Dhayanalinga. It is located 30kms from the west of Coimbatore city.
3. Perur Pateeswara Temple

Perur Temple is one of the oldest temples of Tamil Nadu. It was established in the reign of the greatest Chola empire ruler, Karikala Chola. The architectural beauty of the temple is mind-blowing. Visiting the temples during the puja timings is an unmatched feeling. It brings positivity and content to the soul. It is about a distance of 15km from Coimbatore airport. Devotees from different parts of India visit the temple. The vibrant atmosphere, the sculptures and scriptures will give you peace and harmony.