Coimbatore is the Manchester of Tamil Nadu. It is a developing city and well known for its various industries, textile mills, educational institutions, business environment, and hospitality. People of Coimbatore enjoy a good standard of living yet grounded and courteous. With the development in the industrial sector, Coimbatore has been a major advancement in the Hospitality sector. The major areas of Coimbatore like Peelamedu, Gandhipuram, Rs Puram witness amazing hotels in Coimbatore.
1. Radisson Blu, Coimbatore
Located in the bustling heart of the city, the Radisson Blu Hotel Coimbatore provides guests with comfortable hotel rooms and suites which are perfect for vacations or business in Coimbatore. It is situated just six kilometers from Coimbatore International Airport (CJB) and four kilometers from the central railway station. One can choose from 135 stylish rooms and enjoy the amenities like – free wireless Internet, well-equipped fitness center, a rejuvenating spa and infinity rooftop pool. Also, indulge in sweet treats at The Cake Shop & Tea Lounge.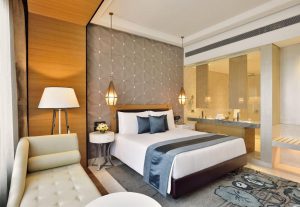 No. 164-165, Avinashi Road, Peelamedu
Coimbatore, Tamil Nadu 641004
Tel: 1800 1080 333 (international)
Tel:+91 422 4227777, +91 422 2226000 (hotel direct number)
2. Vivanta by Taj
Soak into the pleasure of Vivanta by Taj, Coimbatore and engulf yourself into stylish living. Discover the most happening Hotel which is a common stay for all Celebrities and elites arriving in Coimbatore. Just a short 10-kilometer distance away from Coimbatore Airport lays Taj in Racecourse area of Coimbatore. Luxury rooms, eventful Banquet Halls, world cuisine restaurants – it's the most luxurious hotel in Coimbatore.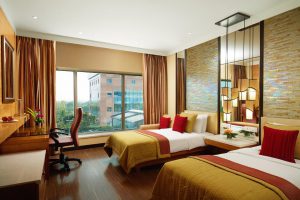 105, Race Course Road Coimbatore, Tamil Nadu 641018
Bookvivanta.Coimbatore@tajhotels.com
+91 422 6681000
3. Le Meridien Coimbatore
Le Meridien is a stunner located a few kilometers from the Coimbatore Airport. It offers a unique experience in every one of its 253 classy guest rooms and suites. Indulging in this perfect ambiance is every traveler's dream. It has incredible room amenities which best for the refreshing stay.
762 Avinashi Road, Neelambur Village
Coimbatore 641062
+91 422 2364343
4. The Residency Towers Coimbatore
Enrich yourself in authentic hospitality and radiating experience of The Residency. The hotel has seen major transformations in the period of years and has been serving the city of Coimbatore for several decades. Equipped with 135 rooms and suite, fine dining experiences and recreation facilities, The Residency Towers is the perfect place to experience South Indian hospitality in its truest form.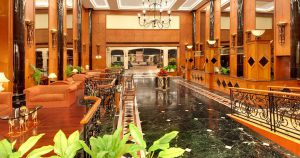 Avinashi Rd, P N Palayam
Coimbatore, Tamil Nadu – 641018, India
+91 422 2241414
+91 9787777770
5. Welcome Hotel by ITC Coimbatore
Welcome Hotel Coimbatore stands in the heart of the city bringing in the comfort and exclusivity of ITC's hotel group's hospitality with modern day liveliness. Giving a world-class experience to the travelers with 103 spacious rooms, indigenous cuisine, and the state of the art health and wellness facilities.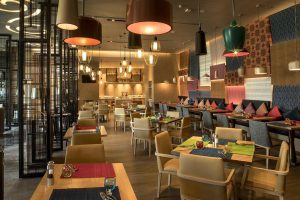 1266/14, West Club Road, Race Course Area
Coimbatore – 641018
Tamil Nadu, India
+9142 2222 6555